Best Travel Backpack For Europe 2021 [Guide & Reviews]
Updated on October 27th, 2021
When planning a backpacking adventure to Europe it's essential you pick the right backpack for the trip that suits your needs. A mistake that almost every traveller makes at one stage is buying an unsuitable backpack. I too made this mistake with my first one when I went for something cheap. It was hard to understand what the best features were for me and it ended up being too big. I am here to guide you in choosing the best backpack for Europe.
I am currently on my third travel backpack, which has taken me on this trip alone through 15 countries including Slovenia, Turkey and Slovakia. After living out of one on and off for 10 years, I can safely say I know how to point you in the right direction. While this guide is for Europe, you can apply it to backpacking Asia, South America and other destinations.
There are currently so many backpacks on the market that at first, it seems overwhelming. Although the good thing about this is there is a backpack to suit everyone. If you need help with what to pack for Europe you can read this guide and this one for essential carry-on items.
A good backpack needs to be comfortable, well-fitting, have optimal features and be strong and durable.
As I haven't tried all of the bags personally, I have enlisted other travel bloggers to help me with this article. You will find reviews from travel pro's on their favourite travel backpack.
Disclaimer: Some links in this article are affiliate links, which means that if you purchase through them, I receive a small commission at no extra cost to you. For more information on my disclaimer click here.
Quick summary of the best backpacks for Europe
BACKPACK
SIZE
FEATURES
PRICE
Minaal 2.0
35 L
minimalist design,
shock proof laptop
compartment
$299
Buy Now
Wandrd Prvke
31 L
Removable camera cube,
waterproof material
From $202
Buy Now
Osprey Packs Kyte
46 & 66L
Slim design, built in
rain cover, adjustable
back panels
From $175
Buy Now
North Face Terra
45, 55 & 65 L
Lift suspension,
fully adjustable,
hydration compatible
55 L $179.99
Buy Now
Osprey Packs Ariel
62 & 65 L
Designed for women,
detachable 10 L top
section that can be
worn alone
From $302.99
Buy Now
Osprey Packs Farpoint
40, 55, 70 & 80 L
Adjustable harness,
detachable day pack
for 55 & 70 L
From $174.95
Buy Now
Osprey Packs Porter
46 L
Lifetime guarantee,
stowaway shoulder
harness and hip belt
$139.95
Buy Now
OEX Vallo
70 + 10 L
Build in rain cover,
budget friendly,
UK online store
£ 55
Buy Now
Quechua
20 - 110 L
Budget-friendly,
multiple separate
compartments
50 L $79.23
Buy Now
Gregory Jade
63 L
Ideal for hiking,
multiple storage
pockets, side water
bottle holders
From $195.46
Buy Now
Osprey Sojourn
45 & 80 L
Light weight for a
wheeled backpack,
has wheels
80 L $339.95
Buy Now
How to choose the best travel backpack
Choosing a backpack for travel in Europe comes down to much more than the size. To find a bag that best suits your needs, answer the following questions:
What you will be doing with the bag? Do you need it to double as a hiking backpack? The Gregory Jade is best for you.
What you will be putting in it? If you have a lot of camera gear then the Wandrd Prvke is a great small carry on size.
How long are you travelling? There is no need to get an 80L backpack for travelling in Europe if you're only going to be overseas a couple of weeks.
Are travelling during the winter? Unfortunately, winter clothes are bulky. You will need a bigger bag to fit your winter gear.
What will be your major method of transport? If you are going to take a lot of domestic flights, try a bag that fits in the carry on allowances like the Minaal Carry-on 2.0.
What are your personal likes on a backpack? I like mine to completely zip open, whereas others like a stuff sack (only accessible from the top).
What may be the best travel backpack for your friend may not be the best one for you. So take a look at the features which you would require the most.
Features to look out for
Size and Volume
The bigger backpack brands tend to offer the same size volume in an S, M or L variety. The size of the bag will fit different heights and weights better while still offering the same internal capacity.
40L and under
would be classified as a lightweight backpack and fits in the carry on allowance for most airlines (check with the individual airline to confirm).
40 – 65L
I believe to be an ideal size. Not too big and fits all your gear comfortably. It's never fun struggling to close your bag every time you move on someplace new.
65L +
This size bags start getting big. You'll have a lot more weight to carry on your back and you might even start pushing check-in weight restrictions. For women, I would recommend not exceeding 65L unless you have to carry a lot of bulky winter gear or are taller. Men can carry 80L bags quite comfortably due to their generally bigger size.
Opening styles
As mentioned above, you can have the stuff sack (also know as top opening) where the bag only opens from the top. The other main style has multiple access areas or a complete zip around where it opens like a suitcase. This is called clamshell or suitcase opening.
My first backpack was a top opening bag and it was such a pain. I will always buy a clamshell-style in the future.
Suspension system
This incorporates the hip belt and shoulder straps and how your backpack will sit on your body. Having a hip or waist belt allows the weight to be distributed throughout your torso rather than solely on your shoulders.
Your comfort levels will be impacted by the hip belt and shoulder straps. While cost isn't always everything, the cheaper bags tend to have a more basic harness system installed. The more you pay he more advanced this system becomes adding extra comfort. Backpacks designed for hiking also have the more advanced systems fitted as these bags are expected to be worn for long periods of time.
The easiest way to tell if a bag has been fitted with an advanced suspension system is to see how the shoulder straps fit over your shoulders. If there is a large gap between the straps and shoulders this is a basic style and tends to be less comfortable. The advanced system conforms to your shoulders and it is likely to have an adjustable strap. These straps will also be fitted lower on the backpack allowing the weight of the bag to sit higher on your hips.
Materials
The material your bag is made out of is important in regards to waterproofing and breathability when wearing. While it's not essential to get a waterproof backpack as you can get rain covers quite cheaply if you will be outdoors a lot the extra rain protection may be something you could prioritise.
Also, take a look at the technology on the back panel of the backpack. You want something that will breathe and if wearing for long periods has a lot of airflows.
Shape, pockets and layout
Put simply, the shape can vary between long skinny bags and shorter wider ones. Have a look for specific pocket features and compartments that will benefit what you need to carry. However, too many pockets may be a disadvantage if you don't use them for their intended use.
Female-specific backpacks
For smaller, petite women, it could be a good idea to go with a women's specific backpack. These bags have the size and shape designed to fit the shape of a woman. This can mean narrower shoulder straps and hip belts. I've used both women-specific and unisex bags and haven't really noticed much difference.
Why travel with a backpack in Europe
Firstly why travel with a backpack in Europe? If this is your first trip to Europe, you'll quickly realise that getting around Europe with a suitcase would be difficult. There are many cobbled streets and it's so nice to be able to pop your bag on to your shoulders and walk over these streets without the hassle of pulling a suitcase.
If you're travelling Europe on a budget there's likely to be a good deal of walking between transport and accommodation. Having a backpack allows so much more freedom, being able to use both hands to hold a phone and look at maps and still having another free is something you will come to appreciate.
If you're like me, you pack your bag until it's full, no matter how many times you tell yourself you won't. With a suitcase, they naturally fit a lot more, which means you will end up having a lot more weight to drag around. Then what about stairs? Stairs are the enemy to having a suitcase, you either have to find the elevator or awkwardly drag them up flights of stairs. Again, a backpack solves this problem.
The lighter you travel the better – see if you can get away with just travelling with a carry-on sized bag for the most comfort.
Best carry-on size backpacks
Minaal Carry-on 2.0
Recommended by Dani from Diapers in Paradise
The Minaal Carry-on 2.0 is a 35L capacity backpack that looks and feels small, but makes perfect use of the space to give more functionality than many larger bags.
As a former Kickstarter project, it's now available exclusively through Minaal's website. It will cost you USD $299.
The Minaal is small enough to conform to US and European carry-on restrictions – even the budget airlines. But it maximizes the space with a smart design and rectangular shape that fills out every corner of its dimensions. It unzips to open all the way, so you can pack it and access your things the same way that you would a suitcase.
The adjustable shoulder harness and chest strap make it comfortable for men or women, and the weight distribution is very comfortable. I backpacked Europe for 7 weeks with just this bag. I never felt that it was too heavy or bulky, unlike the bag that my backpacking partner brought.
The Minaal is a thing of minimalist beauty: sleek, charcoal grey, and without a brand name slapped across it. You could bring this to the office without looking out of place.
With features like a shock-proof laptop compartment, water-resistant coating, lockable zippers and a bungee bottle holder, the Minaal has everything you need for backpacking Europe and beyond.
Top backpacks for camera gear
Wandrd Prvke
Recommended by Alysa from Voyaging Herbivore
The Wandrd Prvke 31L is an absolutely incredible bag for the photographer on the go. With a removable camera cube, pockets galore, and weatherproof material and zippers, you never have to worry about your gear getting wet. Additionally, secret pockets make it easy to keep your valuables safe, while side pockets make it incredibly easy to access your camera.
The only thing I don't like about this bag is that it's so easy to fit so much into because of the expandable roll top, that it ends up getting quite heavy when stuffed to the max with photography gear.
The bag comes in two different sizes: 21L and 31L, and the size you need really depends on how much you want to put into the removable photo cube. If you're hoping to travel with two or more camera bodies and lenses, opt for the 31L, but if you're looking for something more compact that fits under an airplane seat, the 21L is the way to go.
The Prvke comes in 3 different colors and with Wandrd's "Wander More, Worry Less" lifetime guarantee. It's not cheap, starting at over $200, but you're getting your money's worth. You can purchase the bag from Wandrd's site.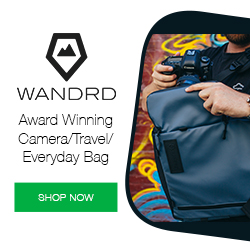 Women specific bags
Osprey Kyte
Recommended by Hanna from Solar Powered Blonde
Recently I decided to upgrade my backpack before going backpacking for 6 months. I wanted something 'pretty' but also big enough to hold 6 months worth of belongings. I had used Osprey backpacks before but found a lot of them to look bulky.
However, I found the Kyte 66L on the Osprey website, and it was much slimmer than the others and also a nice dark green colour. It is in the women's backpack section but looks unisex to me! The built-in rain cover was a must for me. It also has adjustable back panels so you don't get too sweaty when the sun comes back out!
It doesn't feel heavy on your back like other backpacks and has many adjustable straps so you can alter it to your own height and shape. Another must for me is for the actual bag to be light. The Kyte 66 is perfect, as on its own it doesn't weigh much, so when you start packing you are not already starting with a heavy bag. I bought it directly through Osprey but its also available on Amazon and many other websites.
North Face Terra
Recommended by Roshni from The Wanderlust Within
I own the women's 55L which is fitted with the Dyno Lift and Optifit suspension. The Optifit system ensures a comfortable and secure fit for everyone and can be adjusted easily. The back panel is made from soft foam and a breathable mesh. This means there is a cooling effect which allows for long trips with the backpack. There is also a moulded hip belt that maintains support and comfort.
My favourite feature is the Dyno Lift system which provides a self-equalising, balanced-load fit that doesn't add any extra weight. In terms of storage, there is a floating lid to store a sleeping bag or tent. There are large front stash pockets, as well as a full J-zip, to provide quick access to the inside gear. The backpack is also hydration compatible and comes with a rainproof cover if you ever need it.
This North Face favourite is available online and at most high street retailers. It comes in 3 sizes 45L, 55L and 65L and is also gender-specific options.
Osprey Ariel
Recommended by Hannah from Hannah's Happy Adventures
My Osprey Ariel 65 backpack has been with me for the last three years. Together we've made our way around South America, Europe and Asia. It was the perfect choice for my travels. Here, I will share with you why.
The Ariel 65 is designed specifically for women. It has many features that allow the bag to fit well to your body. For example, the waistband is moulded to your hips, using a heater, when you buy it. Additionally, it comes in two sizes – medium (62L) and large (65L). The Ariel has an overall capacity of 62-65L, including a small, detachable 10L pack on top. This 10L section can be used as a daypack that attaches around your waist.
While many people may choose to travel lighter, I think the Ariel is the perfect size for longer travels and cooler climates. For example, when travelling Europe in winter the Ariel's larger size allows you to fit in some much needed extra layers. Furthermore, the backpack has the added benefit that it packs down small, by using the various straps on the outside of the bag, if you decide you do not require the extra space. A further feature of the backpack is the zip on the front, allowing it to be opened like a suitcase.
If you'd like to purchase this backpack, it is available on Amazon or from Cotswold Outdoor.
Unisex backpacks
Osprey Farpoint
Recommended by Michael from The World Was Here First
The Osprey Farpoint travel backpack is undoubtedly one of the best backpacks to choose for an upcoming trip through Europe. The Osprey Farpoint comes in a 40, 55, 70 & 80-litre version. The 55 or 70 version being my recommended choices, as they both come with a detachable daypack. However, the Osprey Farpoint 40 is a better option if you want to travel carry-on only. Keep in mind, though, that for some budget airlines, it still exceeds the allowed carry-on dimensions.
All versions of the Osprey Farpoint have lockable zippers, an adjustable harness and are lightweight and suitable for both male and female travellers. They come with a lifetime guarantee from Osprey, so you can have some peace of mind when travelling around Europe!
Each version of the backpack comes in an S/M or M/L version. The most suitable for you is determined by the length of your torso. As one of the most popular backpacks for Europe travel, it is available to buy at most outdoor stores and online retailers.
Osprey Porter
Recommend by Rand from Well Traveled Mile
The Osprey Porter 46 is an excellent carry-on travel backpack for Europe. It's perfectly designed to safely carry around your laptop while giving you enough space and organization for your clothes and other smaller items. It's basically a duffel bag with added compartments and shoulder straps, which makes for easy access to your gear. The bag also has compression straps on each side that allow you to easily pack your belongings as compact as possible to hit that carry-size limit.
You can pick up this bag on Amazon or REI. Another plus is that Osprey packs come with a lifetime guarantee, so if anything ever breaks, you're covered.
The biggest drawback of this bag is that it's padded shoulder straps and hip belt are not as comfortable when comparing it to the Osprey Farpoint 40. However, when travelling in Europe the most you'll have your pack on your back is when you're transiting from the airport or train station to your accommodation, so it's a non-issue.
Great budget backpack for Europe < $100 USD
OEX Vallo
Recommended by Stuart from Stuartfahy.com
When I needed to look for a new backpack there were so many options. However, the OEX Vallo stood out among the others. OEX was not a brand that I was familiar with but everything about it matched my criteria.
My old backpack had lasted 6 years so I wanted something similar. Fortunately, it's actually an improvement in many ways. My favourite upgrade is the side opening into the main compartment. Instead of having to drag my clothes out from the top until I found what I was looking for, I can simply unzip the side. The main compartment has a 70L capacity with an extra 10L underneath. I find that's more than enough space to travel for a couple of months and it's not too bulky either.
The material is robust, I've used it for several days camping as well as general travelling, and it comes with a quickly attached rain cover stored underneath. The Vallo doesn't have an overabundance of straps and buckles either and can be easily adjusted for whoever is using it. There are no gender-specific features on the Vallo, it's available in a not so exciting black and grey with red clasps.
The best part is the price as it's one of the cheaper products available without sparing quality. The best place to purchase it is at Go Outdoors. If the OEX Vallo lasts me anywhere near as long as my old backpack then it'll be money well spent.
Quechua
Recommended by Summer from Trekkie Globe Trotter
My favourite backpacks that keep me organized, supported, and on the go as I zip around the globe are made by Quechua. These bags came into my life when my old roller bags and traditional backpack were stolen abroad, and my life as a real full-time backpacker began. I'll never look back! The two best places to find a Quechua bag are Decathlon Stores or on Amazon.
The Quechua 50L bags, my favourite, are highly adjustable thanks to four different strap locations so they fit great on tall, lean bodies or short and curvy (and everything in-between). No need to buy a separate rain cover, because this bag comes with one. The cover works great for rain or as an extra layer of security when navigating busy streets and bus stations. It also doubles as a duffle bag that keeps your backpack free of dirt and debris when under buses, in airplane cargo holds, or in luggage racks on trains.
Separate compartments that can be found throughout the bag help keep things that are commonly dirty, such as shoes, away from clean clothes and towels. Creators of this bag really thought all about the little things too, such as metal locks on larger compartments to assist with anti-theft.
If you are looking for a highly durable, well made, and affordable backpack, Quechua is the way to go with bags ranging from 20L to 110L! When I'm on the go you'll find me in a 30L in front and a 50L on my back.
Hiking backpacks
Gregory Jade
Recommended by Erika from Erika's Travelventures
I travelled around the world for 16 months, including 4 months in Europe, with this backpack. It's been packed under a hundred buses, tied to the top of dozens of minivans and thrown around the baggage claim of a dozen flights. I carried it over the Annapurna Circuit and to 5550m in elevation next to Everest Base Camp.
This sturdy, reliable bag has many adjustable straps, and I love that it has little pockets in the front belt clip, so I can store my phone, GoPro, or anything else that I need at my fingertips. It has pockets on both sides of the top flap, so I can do a bit more organizing instead of putting everything in the main compartment.
I also love that this bag isn't like a stuff sack, with only one opening to shove all your things in to. There's a zipper at the bottom to quickly access things like shoes or a sleeping bag, a zipper on the side so you can open it like a duffel, and of course the drawstring opening at the top.
Many big backpacks don't have water bottle holders on the sides, and Gregory Jade has two of them – lifesavers on long-distance treks when I'm carrying one litre of water in each pocket. This backpack also came with a small day bag AND a rain-cover, so you don't need to purchase these separately. The Gregory Jade 63 is all-in-one!
Gregory Jade 63L is sized for women, but Gregory also makes a male version of the bag called Zulu 65. it can be purchased on Amazon, at REI, Gregorypacks.com, and at many large outdoor gear retailers.
Wheeled backpacks
Osprey Sojourn
Recommended by Art from The Broke Backpacker
We've all come to expect great things from anything with an Osprey label, and their Sojourn 80L upholds that legacy. Your European trip might have you stuffing in a few more wardrobe changes or picking up some souvenirs. The Sojourn is the perfect backpack for packing heavy because it also has wheels! Yes, all the mobility of a backpack, plus the comfort and ease of rolling luggage!
No, the Sojourn 80L isn't going to have the perfect ergonomics of the best backpacking bags, but its padded back and straps are comfortable. And if you were concerned, the wheels definitely don't poke you in the back while you're carrying it around.
The Sojourn 80L comes in two neutral and adventurous colours described as "flash black" and "nitro green." The pack isn't gender-specific, but the design is a little bulky and masculine-leaning.
This pack is great for a long-term solo traveller or could be shared between a pair of travellers. For anyone who doesn't need as much space but could still use that nifty rolling feature, the Sojourn comes in 45L as well. You can find both backpacks on Amazon in the U.S. and the U.K.
Like this post? Pin it!
Final thoughts on choosing the top backpack for travelling in Europe
Picking the most suitable backpack for Europe is personal and if you have the opportunity it is best to try the backpack on. If you cannot try it on instore, buy from a reputable source online that allows returns.
You might also like