Top 10 Must Visit Destinations On The Turkish Riviera
The Turkish Riviera is famous for dramatic clifftops, beaches with pine forest backdrops, hidden coves and long open stretches of beach. Now mix in a richly fascinating history; delicious places to eat and drink; neighbouring mountains; adventure sports and phenomenal weather and you're bound for a memorable holiday.
The Turkish coastline stretches over 8000km as part of the Aegean Sea in the Mediterranean. The Turkish Riviera is made up of the towns between Izmir and Antalya. With so many options on where to visit it can be hard to know which places to choose. In this post, I have compiled a list of my favourite 10 places along Turkey's Riviera to help you decide.
Each destination can be visited on its own or included in a road trip as I did.
Here are my favourite destinations along the Turkish Riviera
Disclaimer: Some links in this article are affiliate links, which means that if you purchase through them, I receive a small commission. This will never cost you extra and in most cases, you receive a special discount.
Tell me more:
Izmir has a multitude of inbound flight's daily making it the ideal starting place for a trip along the Turkish Riviera. Being Turkey's 3rd largest city it's worth spending a couple of days here. With all the modern delights of a city found elsewhere in the world you can experience shopping, cafes and bars spread throughout. On top of this Izmir boasts a history dating back to 700 BC. Because of this Izmir becomes like no other city you have visited.
What to do:
There are a range of budget activities and attractions, such as exploring The Kemeralti Bazaar (one of my travel highlights), biking along the waterfront and visiting the Agora Open Air Museum.
Tell me more:
Ephesus is an ancient port city two hours south of Izmir. A trip to the Turkish Riviera wouldn't be complete without visiting the most complete ancient ruin site in the country. Whether you know little about ancient history and ruins or you're a huge history buff it's impossible not to be impressed by what has been excavated and restored here. If you're into history you'll want to spend the whole day exploring the grounds as there is a lot to see. Stay overnight in the nearby town of Selçuk.
What to do:
Spend the day exploring the ruins of ancient city Ephesus. Marvel at the Celsus Library and the huge amphitheatre.
Tell me more:
Pammukale is a small town with a dramatic cliff-like backdrop. The cliffs stand almost 200m above the town and are formed by limestone deposits. These deposits have created pools which are full of thermal water. Over the past decades an overexposure of tourism, including multiple hotels situated on top of the travertines caused the water to dry up and the limestone to turn brown. In more recent times Pamukkale has been world heritage listed and the previous damage is starting to be reversed. There are no longer hotels on top of the travertines and the white has returned to them.
While inland from the Turkish Riviera it's well worth the detour to see this natural wonder.
What to do:
In addition to the travertines visit the ancient city of Pamukkale complete with 1200 tombs.
Tell me more:
There's something truly special to be said about Akyaka. Commonly overlooked, Akyaka is situated on the Turkish Riviera between the two busy cities of Bodrum and Marmaris. Joining the ranks of the Cittaslow 'slow' towns in 2011, Akyaka has vowed to slow down to start improving quality of life.
This is a wonderful destination for anyone looking to recharge for a few days.
What to do:
Akyaka's unique architecture is worth marvelling at, along with hidden rocky beach coves for the sun lovers surrounded by pine forests. Get here in 2.5 hours from Pamukkale and spend three days enjoying this area.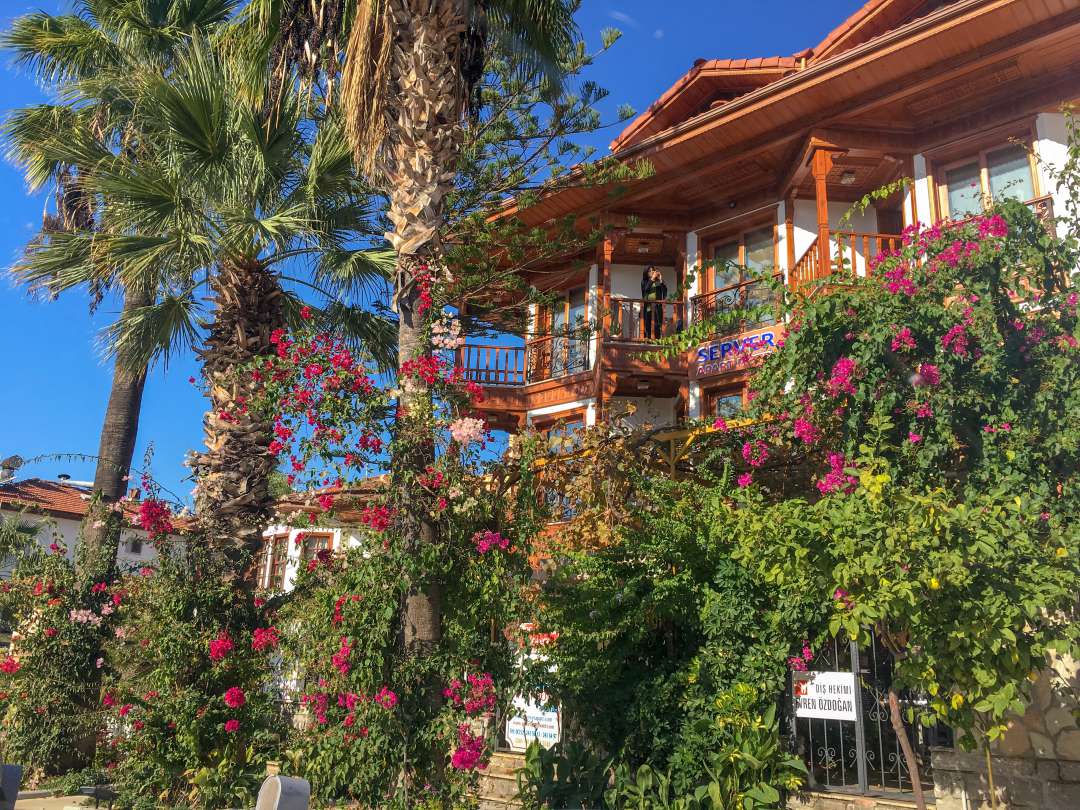 Dalyan
Tell me more:
Dalyan is a small Turkish Riviera river town located an hour east of Akyaka. Here the Dalyan River connects to the ocean via curving grassy riverbanks. Impressive tombs can be seen carved into rock faces on the western side of the river. See these from one of the cafes on the eastern bank or jump aboard one of the many riverboat cruises.
What to do:
Other activities to do in Dalyan include visiting Izutuzu Beach, jumping in Lake Köyceğiz and the hot springs or exploring the ancient city of Kaunos.
I would recommend these tours during your Turkey stay
Kayaköy
Tell me more:
This abandoned 'ghost town' is 1.5 hours from Dalyan and can be explored in a couple of hours. The deserted ruins of Kayaköy once housed 20,000 Greek Orthodox Christians and Muslim Turks living freely together. After World War I there was particular animosity towards the Greeks and they, in turn, were forced to flee. The Greek's who did not flee were forcibly marched to the justice centre in Denizli (over 160km away), many did not survive.
What to do:
Wander through the 350 buildings which are left standing as a modern ruin site. Climb to the top of the hill for a great view of the town.
Tell me more:
Less than 10 minutes on from Dalyan is Ölüdeniz. A destination for thrill seekers and in the summer months party-goers. Known for Paragliding, Babadağ Mountain is 1969m high and one of the highest tandem drop sites in the world!
Try Reaction Paragliding for a fun, reputable company. I went with these guys and had such a great time.
Visit here in the quieter shoulder season to see Oludeniz as a peaceful beach town. Or join the ranks of the British partygoers during the summer months for longer wilder nights.
What to do:
While most tourists visit Oludeniz for paragliding or partying there are other activities here. The long stretch of sand will keep beach lovers happy for hours. Hikers will be more than challenged and rewarded with incredible views over Butterfly Valley. Finally, watersports fanatics have all the equipment imaginable for hire along the shore.
Saklıkent National Park
Tell me more:
Saklikent NP is famous for its Gorge which sits at 300m deep and 18km long. The gorge makes for another excellent detour from the coast and a great hiking adventure for those not faint at heart. This near canyoning experience gets you crossing rushing rivers and wading through chest deep water. The further into the canyon you go the deeper the water becomes.
Drive just over an hour from Ölüdeniz and get here early to beat the rush of tourists during peak seasons. Leave any non-waterproof items in the car.
What to do:
Test your canyoning abilities and hike through the gorge until your nerves get the better of you.
Tell me more:
The charming town of Kaş is one of my favourites on the Turkish Riviera. Cute cobblestoned alleyways are home to numerous cafes and clothing stores lined with bougainvillaea. Here a plentitude of alfresco dining options with delicious fresh food surrounds the main square in town.
What to do:
The activities around Kaş will keep you more than busy if you want them to. You can section hike the Lycian Way, take a ferry to a nearby Greek island or get some rays at Kaputas Beach. Kaputas Beach is one of the few beaches in Turkey which has white sand. In addition to this, it's at the base of a large cliff and has crystal clear waters. Making this an ideal, picturesque spot for the day.
Antalya
Tell me more:
Take a slow day to drive three hours along the final stretch of Turkish Riviera and finish up in Antalya. Antalya is the city which combines nature and history. This is the only city I have visited where you will find not one, but two waterfalls within the city.
What to do:
Stoll the streets of the old town, wander through Hadrian's gate and see the Düden River spill powerfully into the ocean from a 40m cliff.
Once you have seen the Turkish Riviera why not continue as I did and fly to the magical region of Cappadocia?
Like this article on the Turkish Riviera? Pin it!