Curiously Erin Has Been Nominated For A Liebster Award
Updated on October 27th, 2021
Exciting news, I've been nominated for a Liebster Award!
Curiously Erin has been nominated for the Liebster Award 2019. This award is aimed at recognising new bloggers and helps promote up and coming blogs in all niches. The award is given by bloggers to other bloggers and helps create connections throughout the blogging community. If there is one thing I can say I truly love about the blogging world, it is the community. Everyone is so genuinely friendly and does their best to support and help each other succeed.
I have been nominated by travel blogger Leah from An Adventure is Calling. Leah is a beautiful new Mumma from California who has been sharing her domestic and international travels. If you're looking for tips about travelling with a baby or food allergies, Leah has you covered.
Disclaimer: Some links in this article are affiliate links, which means that if you purchase through them, I receive a small commission at no extra cost to you. Read my disclaimer for more information.
What is the Liebster Award?
The Liebster Award is an award that exists only on the internet and is given to bloggers by other bloggers. The earliest case of the award goes as far back as 2011.

Liebster in German means sweetest, kindest, nicest, dearest, beloved, lovely, kind, pleasant, valued, cute, endearing, and welcome. Original Liebster Award. The award is a way to be discovered but also to connect and support the blogging community

https://theglobalaussie.com/the-liebster-award/
My travel story
Firstly, a little bit of history
As far back as I can remember I have wanted to travel. I was always curious about the unknown and what lay beyond the bend. Growing up my family were never big travellers. We took a yearly trip down to the Australian ski fields and regular trips to visit my grandparents. But other than these we never once went overseas or out of state. Before I could finish high school I begged my parents to let me go on a school exchange – where I got my first taste of international travel. Soon after I finished high school when all my friends were partying at 'Schoolies' on the Gold Coast I was touching down in Colorado as a solo traveller.
What I love about travel
I fell in love with meeting strangers, trying new foods and living my life to the fullest. Only when I was travelling did I feel like I was using each day to its full potential. I craved the uncertainty of what the next day would bring, the adrenaline from trying something new and the joy of having friends all around the world.
Why I started Curiously Erin
I wanted to start Curiously Erin as a way to help other travellers see the world. I realised that by working overseas I didn't need to have a huge amount of saving before I left home. For the young, broke 20-30 something who wants to travel more, I want them to see that money should not be standing in the way of experiencing the world. Over the past 10 years, I have travelled to over 30 countries, mostly solo and found ways to get paid to travel the world.
About me
I thrive when I am outdoors and in nature, whether I am hiking, skiing or on the ocean. I love being creative and trying new things. Most recently, I have started watercolour painting and find it extremely relaxing. There is no better feeling than having the sunshine on my face on a cool spring day.
Rules for the Liebster Award
You can find the official rules for the Liebster Blog Award here.
Essentially you must:
Create your acceptance blog post
Answer the questions given to you.
Create 5 more questions for your nominees to answer
Submit your entry
#1 First, tell us what has been the most interesting food you've tried while travelling?
Gosh, I love food and one of the best things about travelling is trying the local dishes. It's no wonder there are so many travel blogs dedicated solely to food.
Although, to say what the most interesting food I have tried is a hard one. Prior to being a vegetarian, I tried the weird creepy crawly insects while I was in Southeast Asia. Although even brave, early 20's me wasn't game for the tarantulas. Eek. When I was in Florida I ate alligator tacos. Again, very interesting. Since becoming a vegetarian, however, food has become a lot more 'normal'.
#2 Next, if you could be fluent in any new language of your choice when you woke up tomorrow, what language would you choose and why?
Thank you Liebster award for this one as it puts some accountability on me. Definitely Spanish. I've wanted to learn Spanish for years now and will go through phases where I'm hardcore listening to Spanish podcasts and doing the language apps. Then it weens off. I know to reach this goal of learning Spanish I'll have to move to a Spanish speaking country. Not the worst thing in the world.
I guess I want to learn Spanish because of how many countries speak it. I would love to be able to travel through Central and South America and have conversations with locals.
#3 If you could only travel once a year for the rest of your life, and it had to be the same destination each year, what destination would you choose?
Oh, this is a really hard one for a travel blogger. Because I want to go everywhere! So I guess I'll have to pick somewhere I've been before to know that I'm going to love it. I pick Mexico. That way I'll be able to hit my goal of speaking Spanish, I can enjoy natural beauty, amazing locals and delicious food.
#4 Would you rather spend one week on a safari in South Africa, hiking the Inca Trail to Machu Picchu, or laying on a beach in the Azores?
Hiking the Inca trail has been on my bucket list for some time now. I love the outdoors and am always looking for my next big hike.
#5 What has been your favourite warm-weather destination? Cold-weather destination?
My favourite cold-weather destination would have to be Lake Tahoe. The biggest piece of my heart has been left behind there. Skiing in California is so special. They average 300 days of sunshine a year and the rest is mostly snowfall. Picture yourself skiing in sunshine instead of gloomy winter weather. I'm also in awe of the beauty of the place every day. There is no better high than skiing through green pine forests with views overlooking the lake.
My favourite warm-weather destination would be Puerto Escondido in Mexico. This tiny Pacific beach town is full of friendly locals and expats alike. I love that you can wander down the street and find so many places to get fresh fruit juices and healthy snacks. The beaches here all look like they are out of a postcard. My favourite is Playa Carrizalillo. This guide is a great breakdown to all the beaches in Puerto Escondido.
Recently, after spending 7 weeks in Montenegro I fell in love with the country. It's a perfect shoulder season destination.
#6 How do you approach meals while travelling? Do you eat out in style, cook your own meals, etc.?
I'm actually terrible when it comes to food and travelling. I'm meant to be a budget traveller but when I get the craving for something I'll go out and buy it. I welcome any suggestions from vegetarians about what your cheap, quick travel dinners are. I'm not a person who can eat ramen for dinner every night.
#7 Have you ever felt homesick while travelling? How did you deal with it?
I feel a bit guilty saying I have never felt homesick. I guess we are lucky with technology nowadays where we can call anyone we want wherever in the world they are. I remember a story from my nan. When she first came over to Australia from England a call home would equal a week's wages! So they would only have letters which would take months to arrive back to her family.
#8 What has been your favourite activity from your travels and why does it stand out as your favourite?
The first activity which comes to mind was going in a helicopter and hiking on a glacier. I spent a week in Juneau, Alaska where I spoilt myself to a helicopter ride for my birthday. This was my first time in a helicopter and flying over the Mendenhall Glacier and seeing the huge crevasses in person was draw-dropping.
#9 What has been your favourite travel post that you've written since you started blogging?
Easily my favourite post to write was on by budget travel guide to Cappadocia. Travelling through that area in Turkey was such a magical place. The scenery was like being on a foreign planet. There is so much to do in Cappadocia, especially if you like being outdoors and hiking.
Prior to my trip to Cappadocia, I had a lot of people tell me it was a very expensive area and you could spend a lot of money there. While this is true due to the hot air balloon rides, other adventure sports and scenic tours it does not have to be this way. I enjoyed writing this post so other budget travellers know what to do in this region. I stayed in Göreme for 5 nights and most of the activities we did were free or under $10.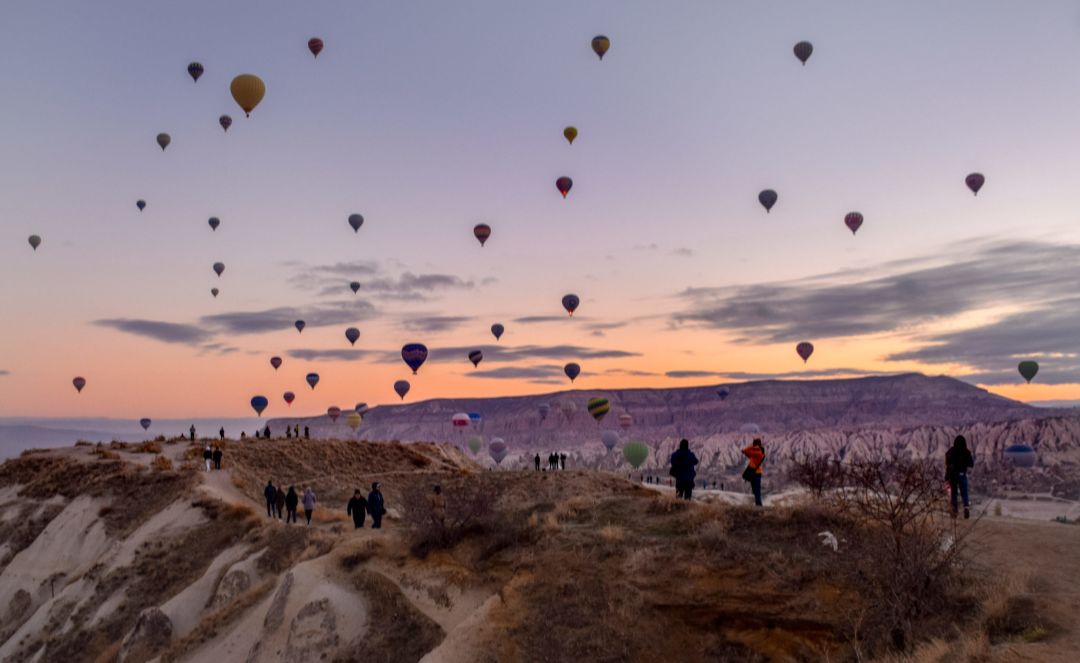 #10 Finally, if someone gave you a month-long, all-expenses-paid vacation to the destination of your choice, where would you choose to go and who would you take with you?
I'd love for someone to pay for me to go to South America, in particular, Patagonia. As a budget traveller, it would be nice to live in a bit of luxury and stay in nice hotels overlooking a beautiful mountainscape. I would take my boyfriend as South America is the tip of his bucket list and we both enjoy the mountains.
Here are some of my new posts you may be interested in
My nominees for the Liebster award
Ok, so I'm now passing the award on to these incredible newer bloggers. I'm excited to hear more from them, their blogging journey and for them to answer my questions below.
My nominees are:
Awesome work nominees on your blogs! I look forward to watching you grow and reading about your future adventures.
Questions for my Liebster award nominees
Have you ever travelled somewhere that didn't meet your expectations, for better or for worse?
Share a funny, inspiring or interesting story about your blogging journey.
What is something memorable a stranger has done for you while travelling?
You get accepted to participate in The Amazing Race. What kind of competitor and traveller are you? Will you win?
Are there any emotional challenges you have to deal with as a traveller and how do you deal with them?
What is the biggest travel dream you have fulfilled? And the one you are yet to tick off?
What is the biggest piece of advice you would give someone about to set off on their first overseas journey?
Do you travel with something impractical, oversized or purely for comfort?
What is the best item in your carry-on bag?
Is there a country you keep returning to? and why?
Like this post; I've been nominated for a Liebster award? Pin it!