An Honest Review of Six Months of Travel
Updated on November 3rd, 2020
This week I have decided to do a travel review for the past 6 months of travelling. There are so many little things that get missed when writing travel guides and top things to do in a city. So this post is to highlight the everyday parts of where we have been since leaving Australia.
You can scroll through each of the countries, check out what we loved about it, what we thought was just ok and any funny or bad stories. This is an honest review and nothing has been left out. At the bottom, you can also find a few details about the blog itself. It's a long one, so you might want to save it for later and come back to it.
Disclaimer: Some links in this article are affiliate links, which means that if you purchase through them, I receive a small commission at no extra cost to you. You can read more about my disclaimer here.
Places we have been
When we decided to go on this trip all Ben and I really thought about doing was spending a year in Europe. We decided we would do a snow season and tick off each of our bucket list items. For Ben, this means visiting Slovenia and for me, it is hiking the Tour du Mont Blanc. So we were very open as to where we travelled the rest of the time.
Turkey – Nov 2018
Ben and I started our travels in Turkey. As it turns out we found some cheap flights with Singapore Airlines through Skyscanner to Istanbul from Sydney. So it was decided, our trip started in Turkey.
Once we arrived in Turkey, we flew straight to Izmir. We didn't know what to expect out of this city but both really loved it. I still think about the Kemeralti Bazaar often and can't wait to go back. If you are looking for an authentic bazaar experience, don't go to the Grand Bazaar but go here instead. We then picked up our hire car and started our road trip along the Turkish Riviera.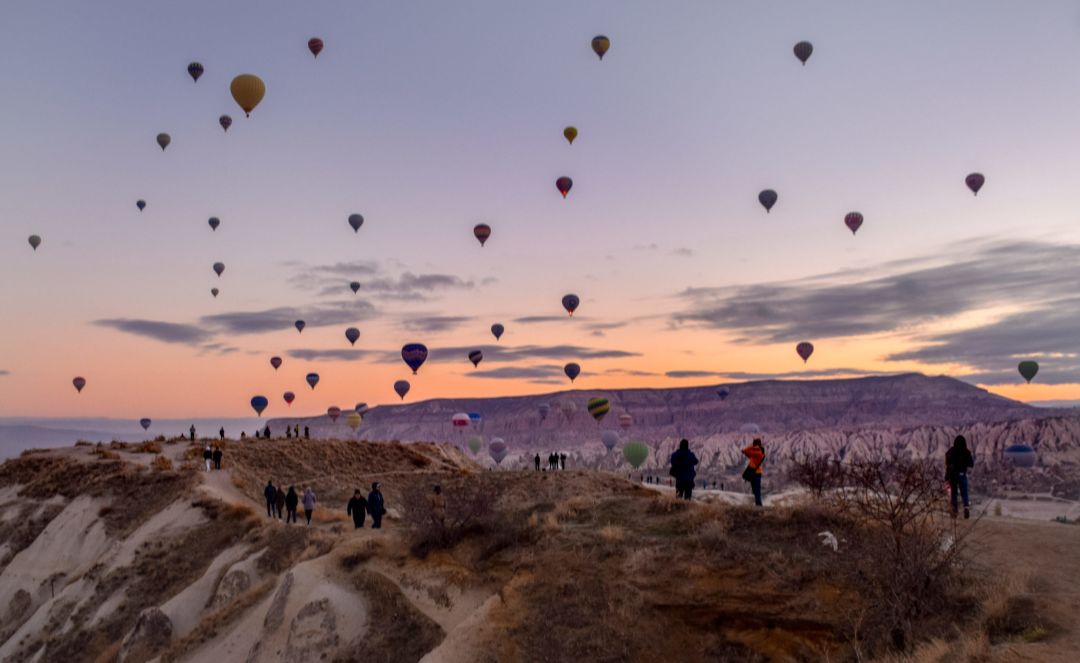 Travel highlights of Turkey
Kemeralti Bazaar in Izmir. This bazaar was much more authentic than the Grand Bazaar and there were a lot of things inside which were useful. Locals actually do their shopping here.
The weather was much warmer than expected.
Airbnb prices were really affordable (cheaper than paying for two people in a hostel).
The coastlines were stunning with no tourists. Yippee for November.
Delicious red wine.
Meeting up with a great friend in Pamukkale and finally meeting her boyfriend.
Cappadocia was magical. We stayed here for 5 days and loved the unique scenery and how accessible all the hikes were.
Arch Bistro in Istanbul was the best place to eat with really friendly owners. We went back three times during our stay.
Seeing waterfalls in the heart of a city (Antalya).
Cats everywhere! We found our future adoptee in Goreme.
The bus from Istanbul to Plovdiv was first class. We had a stewardess who gave us drinks and food during the journey. Lux.
The other parts of Turkey
The food was such a disappointment! I expected Turkey to have such delicious food but every restaurant across the country served the same unexciting meals.
Drivers are crazy. Ben ended up driving our entire road trip. I was too scared to share the road with the Turks.
Pamukkale is not like the images online. Most of the water in the travertines is dried up. While I still thought the travertines were unique; Ben was really disappointed (he says, 'not worth visiting').
Bulgaria – Nov to Dec 2018
After spending a month in Turkey where we were on the go every day we decided to go somewhere and chill out for a couple of weeks. We needed to use the time to find ourselves a Workaway for the winter. It was easy to get a bus from Turkey to Bulgaria and we had heard Plovdiv was a great city.
We stayed in Plovdiv for 2 weeks at two different Airbnb's and during that time spent one night in Devin.
Travel highlights of Bulgaria
It's very cheap. We spent 10 days in our own Airbnb apartment just over 1km from the Plovdiv city centre and it only cost $200 AUD.
We took an overnight trip to Smolyan and Devin. This area was beautiful and had some amazing hiking trails. Unfortunately, there was a little too much snow on the ground to explore properly. If I head back to Bulgaria this area will be the first place on my list.
Veliko Tarnovo was a hidden gem. We stayed here en route to Romania and it exceeded our expectations.
I was blown away by the city centre being built unknowingly on top of an ancient stadium. Apparently, the rule in Plovdiv is to not go digging in your yard as you'll probably come across something historical. Multiple homes have been bulldozed to make room for excavations.
We found a Workaway for the winter!
A wine festival was happening our first weekend in Plovdiv.
The other parts of Bulgaria
We got pretty bored. In theory, staying somewhere for a couple of weeks to chill out and save money sounds like a good idea. In reality, when you're trying to save money what do you do in a place for two weeks?
Romania – Dec 2018
After Bulgaria, we headed up north to Romania. We had secured a Workaway for the winter season in Slovakia so it made sense to keep heading north. We spent a few days in Bucharest, Brasov and Sibiu – all of which we really loved.
Travel highlights of Romania
Bucharest is a cool city! I love cafe culture and Bucharest had that down. Great coffee and insane buildings. Many of the buildings were built during the Communist rule. They dominated the skyline with their big shadowing presence.
Christmas markets! Yep, a lot of exclamations. All three cities had their own unique Christmas markets. Romania is a great destination for Christmas in Europe. The one in Bucharest was huge and very crowded, but I loved it all the same. Afterwards, we visited Brasov's which was small in comparison but had lovely handmade items. Finally, Sibiu took the win. The main square was decorated to the nines with fairy lights and Christmas projections on the buildings. The stalls sold a variety of good and yummy foods. If you are going to travel to Romania, this is a great time of year.
Equally important to Romania's Christmas markets. Hot wine. Yum. I doubt there was a day that went past where I didn't drink at least one 'vin fiert'.
Other parts of Romania
Taxi scams. We were first scammed by a taxi in Istanbul and again when we arrived in Bucharest. We called the guy out on it and used Uber for the rest of our trip.
There was no food offered on the train journey from Sibiu to Bucharest. After 10 hours of travel time, plus an extra hour until we checked in at our Airbnb we were hungryyyyy.
I practically got beat up by a gang of 5-year olds. No joke. It was a Sunday morning and Ben didn't want to do the free walking tour. I was walking to the meeting point on my own through the Old Town. There was no one around when a couple of homeless kids came up to me asking for money. I said no and more came out and stood around me punching me. They were all young and it didn't hurt at all. But what do you do in a situation like that? Ben thought it was hilarious.
Hungary – Dec 2018
Just a quick stop in Budapest. We spent three nights here and loved the city. You can check out my winter guide to Budapest but I'll skip the highlights as otherwise it was a short trip. We just did the touristy stuff.
Although we went to the opera (my first time), visited the thermal baths (amazing – but so cold moving between them) and went ice skating.
Slovakia – Dec 2018 to Feb 2019
We ended up in Slovakia for the entire winter season to do a Workaway in the ski resort Jasna. To be honest, we didn't even know Slovakia had snow. We were focusing our efforts in finding a paid job in the Alps somewhere. Although without a visa it proved hard when not being able to talk to people in person.
Given that we couldn't find a paid job we instead decided a Workaway would be a good option. Plus, it was a new country for both of us so we were excited to try out skiing in Slovakia.
Travel highlights of Slovakia
Free ski pass, rentals, accommodation and food.
I really liked my volunteer position helping out at the ski school.
We got to ski all winter.
The aqua parks were awesome! Tatralandia for the win.
We had a great small local bar and cafe that we loved going to.
The couple of trips we did to the High Tatras and Mala Fatra National Park were incredible.
Slovakia's train system is great. Cheap, frequent and really easy to figure out. I'd recommend train travel here as the best way to get around.
Other parts of Slovakia
The program we volunteered for was poorly organised with the number of volunteers we had.
Our accommodation was an hour by bus away from the ski resort (if the bus connections lined up). This meant, we wasted at least 2 hours every day getting to and from our volunteer job. In addition to this, it was old, cold and the owner was crazy.
As an expert skier, the mountain didn't excite me.
We stayed too long. We got complacent in one place and didn't explore as much as we should have. Because of this Workaway, we now know the longest we will spend somewhere is 6 weeks.
The food was unhealthy and all carbs. Vegetables were served only a handful of times. Because of this, we spent a lot of money on food.
We spent much more money than we should have here.
As you can see there are more 'others' than 'highlights' in Slovakia. We should have realised this sooner and left.
Poland – Feb to Mar 2019
Poland was just a quick trip for us. Angloville Poland approached us to do a Workaway volunteer program with them. Angloville runs English language immersion programs. We spent 4 nights in Krakow before spending a week in Zakopane for the program. The program was intense with scheduled activities from 10 am to 9:30 pm and a long lunch. At first, it seemed like a lot of work but once we settled in we got used to it. In the end, it was really enjoyable and extremely rewarding.
Travel highlights of Poland
During the Angloville program, each English speaker was paired with a Polish participant. We were to be their mentor for the week and help them prepare a presentation. I was almost in tears I was so proud of my mentee during his presentation.
Zakopane was beautiful. Even though we were stuck in a hotel for a week the views were phenomenal.
The food! The meals seemed so healthy and flavourful after coming from Slovakia.
There are fun bars in Krakow. Ben and I even went to the Polish version of a speakeasy which was fun trying to find the entry.
The other parts of Poland
Strangely I can't think of anything bad, average or any exciting stories to tell here.
Croatia – Mar to Apr 2019
Due to spending the winter in Slovakia which is a Schengen state of the EU, our visas required we could only stay 90 days out of any 180 days. So, we had to travel out of the Schengen. Luckily for us, Croatia is yet to join the Schengen.
Travel highlights of Croatia
Plitvice Lakes National Park and Krka National Park. I didn't expect them to be as amazing as they were. I also loved that at the time we visited there were next to no tourists. When we walked to the upper lakes in Plitvice, we were the only ones up there.
We had a lot of free time in Split for day trips.
There was a cafe just down the road from us that overlooked the ocean. We started our own Sunday sesh ritual and had day drinks here. I read my book and Ben watched the cricket. It was nice having something that resembled a routine.
The weather started to warm up. I got these little white legs out of hibernation.
We got to puppy sit a 6-month-old Great Dane. She was beautiful and huge! One of the hardest things about travelling is not having any animals around.
Riding around the island of Vis on a scooter
The other parts of Croatia
It really started to affect me being a budget-traveller here. There are so many cool bars and restaurants in Split. I wanted to go and visit them all. Usually, when I travel, I don't hold back, Ben has been a great reality checker for me. I would definitely run out of money and have to go home early if it wasn't for him.
We were offered a job. One of our neighbours liked us and asked us to work on his yacht for the summer! Yay! Although it ended up falling through it was a nice offer and would have been great.
Dubrovnik was expensive. Too expensive for us that we didn't know what to do there.
The best way to get around Croatia is by bus and buses aren't that cheap. I don't think we took a bus that was under $20 AUD. During the month we stayed in Croatia we took 5 trips to get us from the north to the south. That definitely adds up.
Things I have learnt, surprised or changed me
Previously, I have mostly travelled solo and spent my whole life being very independent. Having to factor in someone else has been a learning curve for me. Spending all day, every day with someone might come easy for a lot of people but it's been an adjustment to not feel like I have lost my independence.
We have a lot of downtimes. There are many days when we just stay at home and don't do much at all. Whether that's because we're waiting on the weather to clear up or saving our money to go on a day trip rather than just 'out'. Also, it's important to have these days to avoid travel burnout.
After doing another winter season I can almost certainly say that will be my last one. Over the last decade, I have worked 9 snow seasons and thought I missed them and wanted to do more. I can confirm I now feel the cold a lot more than I used to and I don't ski as much as I should. I think I'll stick with the skiing holidays next time.
Overall, food has been unexciting. Eating out and trying new dishes is a big part of travel for me. So this has been a letdown.
Travel Blog stuff
I have enjoyed writing my travel blog so much. I am learning something new or feeling extremely overwhelmed every day by what I need to do or figure out how to do it. As previously mentioned, we have a lot of downtimes, so this has been a great way to fill the time.
Blogging goals
Eventually, I'd like to start making some money from this (no matter how tiny). Currently, it's just a passion project.
Grow my email list. Speaking of, if you want to subscribe sign up in the box below. You'll get instant access to all the freebies I have made, including my 42-page Istanbul ebook. Spoiler alert: It's pretty damn awesome!
Keep writing great content to help other travellers and build the Curiously Erin community.
Affiliates
Curiously Erin has partnered with a couple of great sites I use for my own bookings and travel. The most recent of these is Skyscanner. I would love it if you could book your flights through my link. Click the text above or in the future it's on the sidebar to the right 🙂
My favourite travel blog posts
There have been a few travel blog posts which I love and have been the most popular. Have a look if you haven't already.
Are you looking for information on working abroad? Have a look at these posts.
Congratulations if you made it this far (mum, you're probably the only one). I would love to do more frequent travel updates as this one is super long. Make sure you sign up to the mailing list if you haven't already.
Finally, did you find this post useful or interesting? Or maybe you flat out hated it and don't want to see more like this again? Shoot me a comment and let me know.
Pin it!