Known to many as the bucket list destination for hot air ballooning, Cappadocia offers much more for all types of travellers. While walking around this region you may be fooled into thinking you are in a movie set. The area is littered with strange cone-like rock formations known as fairy chimneys and has had a Star Wars movie filmed here. The fairy chimneys have shops, restaurants and hotels carved into them. The unique town of Göreme sits in the middle of 3 different valleys all which are waiting to be explored. It is possible to spend a lot of money here, on the other hand, you can keep this trip cheap by following my budget friendly list of things to do in Cappadocia.
This post assumes you are staying in Göreme as it is central to most of the activities. I stayed for 5 nights which was perfect for doing the following while not being too rushed.
10 Exciting Budget-Friendly Things To Do in Cappadocia
1. Hike Pigeon Valley
One of the best things to do in Cappadocia is getting out exploring on foot. Of all the valleys surrounding Göreme, Pigeon Valley is the most easily accessible. This hike is great for beginners and only has a few short ascents. This 3km hike will leave you with a taste of what this area is like. You have three options for best tackling this hike. Firstly do what I did and walk in and out of town. With quite a few stops for photos, this option didn't take more than 1.5 hours. Secondly, the next option is to take one of the frequently running buses to Uchisar and hike back to Göreme. Finally, the third option is to hike to Uchisar and catch the bus or hitchhike back.
On this hike, you will be granted some beautiful views of Pigeon Valley as you climb into Uchisar and can take a rest stop at the cafe on the hill. The man who owns this cafe speaks good English and has a cute dog to say hello to.
How to get here from Göreme
Walking: From the Göreme bus stop continue walking west along Karsi Busak Cd. follow this road until it starts to curve sharply to the right. At the bend keep a look out for a couple of signs indicating you have reached the entrance to Pigeon Valley. Walk straight off the road and into the valley. Once inside the valley there aren't any signs indicating where to go, just follow the path – it's impossible to get lost as you have rock faces either side of you. Tip: After you have walked through an open tree-lined street the road narrows and becomes more of a trail. Not too far in you reach a cafe on your right. Here you need to enter the cafe and follow the trail up behind it. Consequently, this is where I went wrong. I continued past and came to a dead end.
Bus: The bus (Otogar) stop is located in the centre of town. These buses run every 30 mins on weekdays and hourly on weekends. They are well signed and don't cost more than 1 USD.
Total cost: $1 or free
2. Watch the famous hot air balloons at sunrise
No visit to Cappadocia is complete without seeing these picturesque balloons take to the sky with the sun rising behind them. Certainly, if you're on Instagram I'm sure you have seen this image a dozen times and yet seeing it in person is really special. Depending on where you are staying you may be able to get your own instashot from the deck with a Turkish breakfast platter. If however, this isn't possible head to sunrise point behind the town centre. The balloons will only fly if the weather is right, so check the night before with your hotel or a balloon flight provider if they think they should be heading up.
Sunrise times vary throughout the year dramatically. As a result sunrise in November is at 7:30 am, which made getting up nice and easy. However, in the summertime sunrise is as early as 5:15 am. Eek.
How to get here
Find the main mosque in the centre of Göreme called Cami. Once you are here follow the road heading southeast up the hill behind it. Keep following the road until you reach the end. At the top there is a large cafe on the left, continue behind it and you can follow the wide ridge out until you are in the best location. From the mosque, it takes 5-10 mins to reach the top.
Total cost: free
3. Smoke shisha in front of a fireplace
You can't walk past a cafe in Cappadocia without seeing the signs saying 'waterpipe here'. While this isn't something I would usually search out, it's fun to add to your list of things to do in Cappadocia. Outside of the summer months, once the sun starts to dip the temperature starts to drop rather quickly. Warm up by a fireplace with a nice beer and shisha to end the day.
Make sure you download your FREE Turkey bucket list printable checklist
I searched for an indoor fireplace extensively up and down the main road without much success, then finally found one at the Viewpoint Cafe. The staff here are wonderful and as the name suggests there is a great view over Göreme. If it isn't too cold out, there are many outdoor fire pits and cute Turkish seating areas for smoking shisha.
Total cost: A shisha is around 40TL ($7)
4. Visit Uchisar Castle
While not your average castle, the Uchisar Castle is a huge rock formation on top of the hill in…surprise, Uchisar Village. This rock castle has rooms carved into it with stairwells and passageways connecting them. Entry costs 8TL and you can explore inside at your own pace. It is amazing to imagine people living inside of rocks. So much so that they built a castle inside of one. Above all, the best part of this castle for me was the 360-degree views it provides of the surrounding valleys.
Take the bus from Göreme to Uchisar or walk up to the castle after your hike through Pigeon Valley.
Total cost: $1 bus and $1.50 entry fee
5. Drink hot wine at Silk Road Restaurant
Definitely an activity for the colder parts of the year. During the evenings once the temperature has dropped it's so nice to warm up with a glass of hot wine before dinner. I recommend finding the Silk Road Restaurant located on Muze Cd. Muse Cd. is one of the main streets in Göreme. The restaurant is easy to find at night time as there is a firewood stove on the footpath selling hot wine takeaway. The restaurant has indoor and covered outdoor seating. They even have traditional Turkish floor seating areas which are really cute.
Total cost: $2.50 per glass
6. Hike through Sword Valley into Rose Valley
This has to be a highlight of my things to do in Cappadocia and excellent on the budget – hiking is free! These two valleys are a great showcase of the iconic fairy chimneys that make up the region. There are lots of trails through these valleys and while it's hard to get lost if you have a decent sense of direction, I would recommend downloading the maps.me app. Google Maps doesn't show the trails here in such detail whereas maps.me shows every path through the valley. Maps.me also show the locations of churches and other points of interest
Disclaimer: I have no affiliation to maps.me. I just found this app really helpful.
Firstly, you start this hike through a narrow valley floor with steep walls, during this section there are even a few ladders which you need to descend. This is a really fun section of the hike, but unfortunately, it was also a very short section. Sword Valley ends as the trail passes through an open valley. Continue along the trails which head north and then east until you see a cafe. Behind this is Rose Valley. From here make your way east as far into the valley as you would like to go. I spent 4-5 hours wandering through these valleys, but you don't need to spend as much time if you don't want.
Most importantly, enter as many of the rock formations as you can and explore inside them. Consequently, it's all free! Finally, when you're ready to leave head directly west. This will take you to the main road and it's a short walk back into town.
How to get here
To enter the valley first find the car park across from the Open Air museum and continue walking away from the museum up the hill. After that there is one section which has a trail leading over the other side into the valley – this is not shown on the map app. If you get as far north as the steep drop off cliffs you have gone too far. Follow the edge and head back south until you find the path.
Total cost: free
7. Play backgammon while waiting for dinner
Something I absolutely loved about Turkey is that everyone plays backgammon and Rummikub. It's not unusual to walk past a cay (tea) shop at any hour of the day and see large groups of Turkish Men socialising, drinking cay and playing one of the two games. Get into the spirit of the Turkish lifestyle and add to your list of things to do in Cappadocia a game of backgammon while waiting for your meal to come out.
Total cost: free
8. See the Love Valley Penises
Yep, you read that right. A visit to the Cappadocia Love Valley will have you seeing more of these incredible rock structures. Only this area has been dubbed 'Love Valley' for what I believe to be one reason – the phallic looking rocks. These natural wonders are up to 50m high and sit to the west between the towns of Göreme and Avanos. If you're not all hiked out and have the time, the best way to hike through this valley is starting in the northern part and hiking in and out. On the other hand, if you're done with hiking and have access to a vehicle there is a viewpoint which puts you on the ridge looking down into the valley. You can find this located on google maps and maps.me.
I wouldn't recommend walking from Göreme and trying to enter the valley as I did. The paths leading into the valley are extremely narrow and steep. For the bigger hikers combine this with the Pigeon Valley hike. On the road back to Goreme from Uchisar, a track commences leading into White Valley which becomes Love Valley. This is easy to see on the maps.me app. When you pop out the northern end of the valley hitchhike back into town from the main road.
Total cost: free
9. Take a day trip to Ihlara Valley Gorge
Hire a car and add a day trip to Ihlara Valley Gorge to your things to do in Cappadocia. While not the biggest budget activity this much less touristy destination is well worth the cost and makes for an excellent day trip combined with a visit to one of the Underground cities. This pretty 16km gorge follows the Melendiz River and averages 100m deep. The gorge starts in the town of Ihlara and runs to the Selime Monastery. Parking costs 9TL (<2 USD) and entry to the gorge is 20 TL (4 USD). From the entry descend 300 steps into the valley.
The walk is really easy and after the initial descent into the valley, there aren't any more steep sections. Plan your trip so you can have lunch in the gorge, either take a picnic or stop in Belisirma at the many riverside restaurants. Walk as far as you want remembering you will have to walk back also. If you walk the total distance allowing for breaks at a decent pace it will take you 2-2.5 hours. After reaching Seline I hitchhiked back to my car. Hitchhiking is very common in Turkey, I got picked up by the first car that came past.
How to get here
I researched whether it was possible to get here on a bus and found that it isn't possible. At least not in an acceptable time frame. The drive takes 1.5 hours so you will need a car or to take a tour. This is an easy drive if you're worried about driving in Turkey. It is mostly long flat stretches of quiet road and only goes through a couple of small towns. While driving you are able to see two of the region's highest mountains, Hasandağı and Erciyes Dağı. The latter sitting at just under 4000m. Head southwest until you reach the town of Ihlara. The main entry is 1.8km north of Ihlara with shops, toilets and a car park. Plug 'Vadibaşı Turistik Tesisleri' into any map app and it should take you to the right location.
Total cost: $41 for car and entry fees. $35 a day for an automatic car on the day of. Book ahead to get cheaper rates. Manual cars are also cheaper.
10. Explore an underground city
There are 36 underground cities in Cappadocia with new ones being discovered all the time! Originally, these cities were built for citizens to escape invasions of the Roman Empires and go as deep as 8 levels below ground. However, there is evidence to show the cities were being lived in as recently as the early 1900's. The best underground cities nearest to Göreme are Kaymakli and Derinkuyu. You only need to visit one as they are very similar. They are in the same direction as Ihlara Gorge so it's best to combine a visit to one of these with your trip to Ihlara for a perfect full day out. Entry costs 35TL (7 USD) and can be explored at your own pace.
Total cost: $7
11. Bonus: Wander the shops in Göreme
Finally, I have one extra free activity for you. Keep it budget friendly by not buying everything you see. The shops in town are home to unique Turkish handicrafts. From wonderful colourful lanterns to hanging balloon mobiles you'll want to buy almost all the souvenirs. Make sure you stop in at Saltan Carpets and ask for Ali. As well as being a great salesperson he will tell you all there is to know about Turkish rugs. Even if you're not in the market for a rug, stopping by at these stores is very entertaining.
Total cost: free
Like this post? Pin it!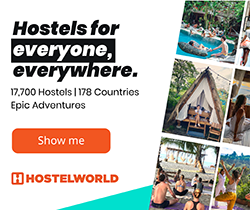 A small ask: If you liked this post, please share this?
I would really appreciate this post to be shared. It will help with the growth of my blog. This will only take a few seconds of your time. The buttons are just to the left.
Some suggestions of where to share are:
– Pin it: I even made some pretty pins 🙂
– Share it through Facebook
– Tweet it
Thank you for your support.