Yacht Jobs: 10 Reasons Life as a Yachtie Will Be Your Obsession
Updated on September 6th, 2020
Every year, we make resolutions to change something about how we're living our lives. If you want a career change that allows you to travel more then yacht jobs will be your new obsession! My all-time favourite travel job has been working as a superyacht stewardess, you can also work on a yacht as a deckhand, chef or engineer. Becoming a yachtie offers so many unique experiences and once in a lifetime opportunities. Read on to see how a yacht job will be the best new career for you.
You may also be interested in working at a ski resort, working at a resort on a tropical island or becoming a tour leader.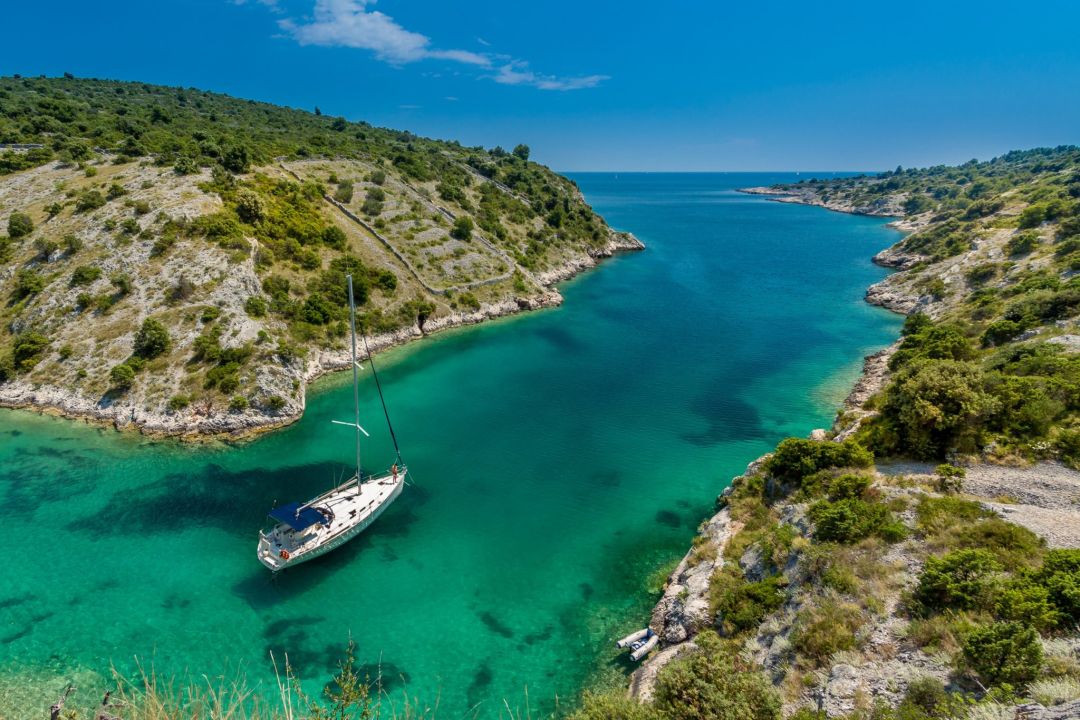 Disclaimer: Some links in this article are affiliate links, which means that if you purchase through them, I receive a small commission at no extra cost to you. For more information on my disclaimer click here.
1. Yacht jobs allow you to travel for work
Working on a superyacht has been one of the best jobs for me to travel the world and it can be for you too. The superyachting industry has two major seasons and during both, the boat you work on is likely to go somewhere different.
The northern hemisphere's winter is spent in the Caribbean while the summer is spent in the Mediterranean, USA New England region or up in Alaska. In addition to being in these main areas, you can also find work on a yacht which spends time in the Pacific Islands, the Indian Ocean, throughout central America or even one which circumnavigates the globe. Travel possibilities are actually endless.
The result?
Since I joined yachting I have been to 15 different countries by boat. Some of these include Bermuda, Norway, Greece and the Portuguese Azore Islands. I lived in the Bahamas for 6 months and spent a summer based in Naples, Italy where I visited many of the Italian islands. You're probably thinking this is all too good to be true… It's a job after all. So yes, some of these places I was working and didn't get a chance to explore. For example, the Isle of Capri, I went there 5 or more times during the summer season and the furthest I got from the boat was the rubbish bins on the dock.
Now you may be thinking, 'Boo, that's shitty. Why would I want to join an industry where I don't get to get off the boat and see the places I travel?' You may not get to see all of them, but the chances of seeing somewhere new are definitely increased from sitting in the same cubicle day in, day out.
When I lived in the Bahamas I worked on average Monday to Friday from 9 am to 3 pm. That left for a lot of exploring. There was a time when I was flown to Bermuda to wait out a hurricane (which wasn't affecting the weather in Bermuda) – meaning we got 5 days to explore the beautiful crystal clear waters of the island. Another time our captain paid for the crew to do a day tour of Horta.
While the amount you travel and see will depend significantly on the boat you work on, it's still a great way to get paid to see the world. That also leads me to the seasonal nature of the job.
2. Working yacht jobs are seasonal, so you get to travel during your holidays
I love working in seasonal jobs. Seasonal jobs are the best for travellers. It means you work hard for up to 6 months and then you get time off for travel. What's not to love?
The best part about yachting and working seasonally is you can stay employed by the one person so you know you have a job to come back to. A lot of yacht jobs offer 5 months on; 1 month off rotations. You can also find jobs which are 3:1 if you're lucky. Then again certain yachts only want to hire people for the summer season or the winter season. So depending on what type of job you are after there are plenty of opportunities for time off.
Let's ditch the live to work lifestyle and start living our lives how we want!
3. You get paid well – pay off your debts and travel more
Another reason yacht jobs are so great is you get paid well to do it. Not only are there are no living expenses. Forget about paying for petrol on your daily commute to work, forgot paying for rent and food, even forget about paying for your basic toiletries. All of these necessities which make getting ahead so hard normally are included in your pay package on a superyacht.
So now you're asking, 'how much will I get paid?' For an entry-level position, the pay scale varies depending on the size of the yacht. However, usually, you will be paid a minimum of $2500 USD/month. Depending on where you come from this money could also be tax-free. You'll have to check your countries tax laws. Unfortunately, as an Australian, I'm not so lucky. If you want to see more about wages for different positions take a look at this salary breakdown by Superyacht Crew Academy.
Private vs charter
On top of your salary, there are possibilities of earning more money. There are two types of boats; private and charter. If you work on a charter yacht you'll be adding tips to your wages. Again, this varies greatly on the size and age of your yacht and whether it's shared equally between crew or if it's split by how the guest gives it.
A superyacht charter can cost between $100,000 and $350,000 USD per week. A typical tip is 10-20%, so at the bottom level of $100,000 charter cost and at a 10% tip the yacht would be tipped $10,000 for the week. Let's say you have 10 crew. That's an extra $1,000 for the charter week.
Because tips are taken into account, private boats tend to pay a slightly higher monthly salary to compensate for not earning tips. Although some private owners do tip their crew after trips and it's even more common to get a Christmas bonus. Another way this is compensated is certain owners may give gifts from the companies they own. Imagine working for the owner of Rolex and getting a Rolex each year (this is a scenario. I don't know anyone who works for the owner of Rolex and don't know if they receive a watch each year – but you get the picture).
A lot of people say they can't afford to travel. Well, isn't this the best answer?
Have debts you say? Work yacht jobs for a couple of years and they'll be gone.
Want to save for a mortgage? Again, yacht jobs are the answer!
4. Yacht jobs allow you to meet your new best friends
I value experiences and friendship over money. So while earning good money is an added bonus, that's not what I took my yacht jobs for. A fantastic byproduct of the yachting industry is the people you meet. Throughout my years working on yachts I have met some of the most incredible people and now hold them as dear, lifelong friends.
If you want to read an exclusive interview from one of my dear yachtie friends, take a look at this interview on what it's like being a superyacht stewardess.
I believe the reason for this is that everyone in yachting is there for the same purposes. Yacht crew have all decided the 9-5 life isn't for them. You're all travellers and looking for exciting opportunities. So it's no wonder that you gel so well with the people you meet. When you live on a boat with someone you get through the small talk pretty quickly, it's easy to stay up late solving the problems of the world and talking about your dreams and goals. Friendships which go this deep are sure to last a lifetime.
Not only is there the chance of making incredible friends, but I also have lots of friends in the industry who have met their future wives or husbands.
So what better way to change your life than making special friendships and maybe even finding 'the one'?
5. Yacht jobs create exciting lifestyles
When you live on a yacht your lifestyle instantly becomes a lot more exciting. There's no more Monday-itis (ok, sometimes there is), but when you can spend your Monday afternoon hiking Shirley Heights in Antigua followed by sunset cocktails at the Antigua Yacht Club life sure is a little more exciting.
One of my favourite things about yacht jobs is that although the boat has a rough schedule of where it is likely to end up over a season or for the year ahead it's always bound to change. So when someone asks you where you'll be in July you can answer with a bit of excitement that you'll probably be in the South of France. Although the owner has been thinking of taking the boat to Alaska, so maybe up there. Then as always in yachting, nothing pans out as expected and you end up in Canada's Nova Scotia.
Let us compare working on a yacht to a normal lifestyle
Do you think there's not enough time in a normal weekday? You wake up early to get to the gym, you spend 30-60 minutes morning and afternoon in traffic getting to work. You're lucky if you make it home by 7 pm. Time to make dinner, eat, sit on the couch and relax for a bit, then you better get to bed if you intend on getting 8 hours sleep. On Friday night you can't even imagine going out for drinks as you're too tired from the week. You have Saturday to do some fun things and then Sunday is spent doing chores like washing and meal prepping for the week. How boring! But at least you had Saturday, right?
Well, there's no reason to think like that when you work on a superyacht. There is NO daily commute to work and there is a chef to cook you lunch and dinner (some yachts even breakfast). Instead, wake up early, go for a run get back in time to read your book with breakfast. Then each afternoon when you finish work at 5 pm walk off the yacht and explore the surrounding area. You'll have more 'me' time on a regular day. Weekends are way more fun too when you live with all your friends! That brings me to my next point too.
6. You'll have unique experiences as yacht crew
Have you wanted to check things off your bucket list like cross an ocean? Feed the pigs in the Bahamas? See the Fjords of Norway? How about watching a grizzly bear feed? All of these incredible experiences are possible when working yacht jobs. Yes, you get more time to yourself during a normal week, but you also get the opportunity to do and see so many things which for the normal person would take months maybe even years of savings to achieve.
I love being able to tell people I have crossed the Atlantic Ocean by boat – twice! I'm waiting to add on a Pacific crossing and an Indian Ocean one.
7. Yacht jobs allow you to work with some of the most influential people in the world
How many jobs do you know where you can step off the street and start working for the rich and famous? The owners of the superyachts are some of the most influential people in the world. Some of them might be your favourite celebrity and others might be a leader in their field of study, inventors or great entrepreneurs. Imagine what you can learn by working for these people. Not all yacht owners will be down to have a chat but if you end up on a boat with an owner who wants to talk to you make the most of that opportunity.
Now, I don't mean for you to bother them with your new brilliant business plan. Just talk to them about their life. Find out where they came from, how they got into their field, who their mentors are. Remember while they may be rich or famous they're still real people too.
Are you thinking about becoming a yachtie? Download these must-have checklists now
8. Yacht jobs are fun too!
Superyachts have a whole lotta toys. Think jet skis, tenders, inflatable climbing gyms, waterskis and paddleboards just to name a few. All of these toys need to be tested before the guests come on. Predominantly this is a deckhands job although depending on the workload the stews might get to go out and play too. Generally, captains will encourage you to use these toys outside of work to ensure they are running properly also.
For the yacht stewardesses, your fun starts when you have to test the new cocktail recipes you found. Bought a new espresso machine. Gotta test it! Stews are also in charge of provisioning for the crew. So it's your responsibility to get all the candy and snacks at the store. Yum. When the guests are on board it's your job to create beautiful table settings, floral centrepieces and mouth-watering cocktails. You're there to ensure the guests have a good time so you may as well too!
Another fun part of work is doing the safety drills. For a yacht to comply with the Maritime Labour Convention (MLC) it must be doing a number of safety drills each month. It breaks up the day and you get to laugh at your friends when they put on the oversized immersion suits.
9. You'll gain unique skill sets
When you work on a yacht there are a limited number of crew to do absolutely everything which is required to keep the boat safe, running, prepped for guests and finally that the guests have their best trip yet. Because of this, your skill set will grow exponentially, especially if you are on a smaller boat.
As a yacht stewardess, you may be required to learn to drive the tenders to take guests ashore. The chef may need some assistance. It's not uncommon for the engineer to require an extra hand or two, so get ready to learn how to set up the power once you have docked. Deckhands may need to help run plates and drinks during a cocktail party.
Within your own department, there will be so many new skills you learn. Focusing on a stewardess your hospitality skills will be better than anyone else out there. You learn all different styles of service, how to make cocktails, all about wine and food safety. You also will be putting together beautiful floral pieces, you will learn how to launder basically anything and how to remove all types of stains.
10. You will increase future job prospects
So although we are talking about getting work on a yacht it's unlikely you will be doing this for the rest of your life. Something great about yachting is it looks excellent on a CV.
You gain many personal skills. I don't believe anyone comes out of yachting without having extreme to bordering on obsessive attention to detail. You'll notice things at home that are out of place or untidy all the time. Little things will bother you until you can either clean or fix them.
You'll be able to tell future employers that you're a great team worker. Just tell them you lived in a confined space with 10 of your co-workers and didn't kill anyone!
Would you like to work on a yacht?
Does all this sound incredible and you can't wait to start your career as a yachtie? I bet! I miss it every day.
Let me introduce you to my book Superyacht Crew: How to Start Your Career in the Superyacht Industry. It has 12 loaded chapters of everything you need to kickstart this dream of yours. Authors Melissa Ryan and I have put our combined six years and counting experience into one concise but comprehensive guide.
We have helped numerous friends and family members make this dream a reality and now we want to help you. Each year more people try to find yacht jobs. Don't wait any longer – act now. Gain insider knowledge, answers to all the questions you may have and use an example CV with step by step instructions to make yours stand out.
Plus, my favourite part is a detailed reference guide. It includes easy to read contact information for crew houses and crew agencies that have been tried and tested. Where to do your courses, which doctors do the ENG1, all of the useful online job boards and facebook groups plus more.
Like this post? Save it for later
I would really appreciate this post to be shared. It will help with the growth of my blog. This will only take a few seconds of your time. The buttons are just to the left.
Some suggestions of where to share are:
– Pin it: I even made some pretty pins 🙂
– Share it through Facebook
– Tweet it
Thank you for your support.